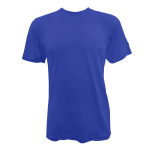 Lapis
XS - 2XL
American Apparel Blend T-Shirt - BB401
This American Apparel 50/50 t-shirt is made from a cotton/poly blend for a soft, wearable feel. American Apparel products are cut to be very fitted.
A sample of this product can be found at any Underground Printing location.
Print Methods: Screenprinting, Digital Printing, Embroidery
Color Options

Asphalt

Black

Black Aqua

Brown

Creme

Evergreen

Gold

Heather Black

Heather Cranberry

Heather Forest

Heather Gold

Heather Imperial Purple

Heather Kelly Green

Heather Lake Blue

Heather Orange

Heather Plum

Heather Red

Heather Vintage Green

Kelly Green

Lapis

Navy

Neon Green

Neon Heather Blue

Neon Heather Pink

New Silver

Orchid

Pink

Red

Sunshine

Truffle

White

Show More Colors
Size Specifications
| Size | Length | Width |
| --- | --- | --- |
| XS | 28" | 16.5" |
| S | 29" | 18" |
| M | 30" | 20" |
| L | 31" | 22" |
| XL | 32" | 24" |
| 2XL | 33" | 26" |
Our customers rate this product:
(106 Reviews)
Show Reviews:
5 Star
|
4 Star
|
3 Star
|
2 Star
|
1 Star
08/14/2017
Abigail S. - Color is great, it's super soft, and I love the fit.
07/19/2017
Joseph L. - Soft shirts are the best shirts, and the American Apparel 50-50 is great.
02/04/2017
Jeff K. - The fit is perfect
01/24/2017
Karlie H. - very soft, fits well
11/18/2016
Anne I. - Washes up great and clients love them
11/05/2016
Saltanat M. - Liked it a lot!
09/24/2016
Jean H. - Soft and comfortable.
09/14/2016
Patty O. - Soft.
09/13/2016
Matt M. - Nice, comfortable shirt, great quality, soft. It's a bit taller than other products but works great for me. I'm 6'4'', 205#...the XL was the correct length and just a bit baggier than I like but not a tent by any means.
08/03/2016
Martin R. - Extremely comfortable , fit well, great product
06/22/2016
Steve B. - Great feel. Good base color.
06/21/2016
Renae K. - Love this shirt! We will keep this brand in mind for any other t-shirt orders. It probably would not work for our Construction Program though.
06/15/2016
Justin P. - ALL HIGH QUALITY MATERIAL
02/05/2016
Christie D. - Love this product! so soft and a great fit!
01/29/2016
Christian B. - Excellent Product. My athletes won't train in any other material when it comes to a tee.
12/28/2015
Travis W. - Great feel and cut to these shirts. The multitude of "heather" options in colors is nice.
12/25/2015
Jamie P. - The shirt is soooo soft and I love how it almost looks vintage looking. This is the third shirt I have ordered and plan on ordering more!
11/30/2015
Karen M. - The size chart for the fitted t-shirt was accurate. Although the black/aqua was slightly darker than it appeared online, both color and softness of the fabric were appealing.
10/22/2015
Alyson M. - love this shirt. I would always buy this shirt if I have budget for it.
10/09/2015
Chris H. - soft, great fit
08/19/2015
Dariusz O. - Excellent quality! Professional service!
07/29/2015
Alex L. - So so soft and comfy, washes up very nicely.
06/30/2015
Joe M. - Soft, fitted, looks good on men and women
05/13/2015
Diana F. - Great feel and quality!
01/29/2015
Caitlin Q. - The softness.
12/26/2014
Thomas H. - Great shirt if American Apparel can guarantee the correct length
12/23/2014
Joe D. - BB401 is always rock solid.
12/19/2014
Caitlin Q. - Soft, not stiff
10/01/2014
Justin P. - SOFT! SOFT! SOFT! Lays well onto the body
09/26/2014
Sarah J. - Soft, great colors!
07/30/2014
Joseph A. - Great shirt, nice and soft, tapered, athletic fit.
07/24/2014
Nicholas K. - The material is great and the sizes are a perfect fit.
07/16/2014
Tana E. - softness, fit, logo screening
06/30/2014
Nicholas H. - These shirts are great.
06/28/2014
Dena B. - The material was perfect and was true to size.
06/28/2014
Ben N. - Comfortable, fitted, and a decent price.
08/28/2016
Becky N. - Slim cut and sizes vary between colors. My team LOVES the feel!!!
06/11/2015
Kelly R. - Runs large, wish I had known! Also wish you could order XS
03/15/2015
Daniel K. - This product is great for taller people, but the length often makes the product too long for some individuals. We still love the product though and the lightweight feel of the 50/50 blend.
01/15/2015
Hollis D. - Good quality shirt, would have liked to have gotten a Dri-Fit type of athletic shirt- very pricey
11/19/2014
Brianna M. - Good material, but runs a little small in sizing
11/03/2014
Ashley B. - The cut of the neck line was a little too high. The first time I put it on, I felt like it was strangling me! Also, the dye from the shirt bled onto the white of the digital print so my fish had a milky-orange eye instead of a white eye (bummer). Other than that, it was very comfortable and breathed really well.
06/30/2016
Andrea C. - cannot be put in the dryer without shrinking
06/27/2014
Amy L. - The shirts fit shoulder-wise, but are very long! And they are a bit see through. But very soft!