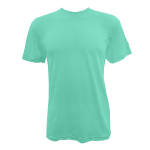 Mint
XS - 3XL
American Apparel Fine Jersey T-Shirt - 2001
This American Apparel basic t-shirt is made from 100% fine jersey cotton for a soft, wearable feel. Some select colors are made from a cotton/poly blend. This t-shirt is one of our most popular items. American Apparel products are cut to be very fitted.
A sample of this product can be found at any Underground Printing location.
Color Options

Aqua

Army

Ash Grey

Asphalt

Baby Blue

Black

Brown

Camel

Cranberry

Creme

Eggplant

Forest

Gold

Grass

Heather Grey

Kelly Green

Lapis

Lemon

Lieutenant

Light Aqua

Light Blue

Light Pink

Lime

Mint

Navy

New Silver

Olive

Orange

Pink

Purple

Red

Royal Blue

Slate

Sunshine

Teal

Truffle

Turquoise

White

Show More Colors
Size Specifications
| Size | Length | Width | Sleeve |
| --- | --- | --- | --- |
| XS | 27.38" | 16.5" | 8.13" |
| S | 28.38" | 18" | 8.38" |
| M | 29.38" | 20" | 8.63" |
| L | 30.38" | 22" | 8.88" |
| XL | 31.38" | 24" | 9.13" |
| 2XL | 32.38" | 26" | 9.38" |
| 3XL | 33.38" | 28" | 9.63" |
Our customers rate this product:
(233 Reviews)
Show Reviews:
5 Star
|
4 Star
|
3 Star
|
2 Star
|
1 Star
07/06/2017
Robin V. - comfy but durable
07/02/2017
Emily D. - It is simply a better fitting tshirt, and better quality.
03/02/2017
Kathleen B. - The material was soft, color great, fit exceptional.
03/01/2017
Susy I. - Love these shirts and the color blue is perfect for us.
01/26/2017
Bruni B. - the fabric is really nice and the colors are perfect
11/18/2016
Anne I. - Thin, cozy, comfortable!
11/09/2016
Michael K. - great shirt made in USA!
10/27/2016
Barbara S. - Fitted, fabric has an excellent texture
10/17/2016
Elizabeth B. - This product utilized my own graphic work. I am a graphic artist. They did a great job.
09/08/2016
Shannon Marie M. - It doesn't seem to run big like stated.
08/26/2016
Chloe W. - The material is softer than regular t shirts and the fit looks good
08/25/2016
Sandy E. - Only tiny complaint would be that they run a bit small compared to t-shirts purchased over the shelf.
08/25/2016
Jeff H. - We choose this because it is sweatshop-free, which appeals to our organization's values.
08/04/2016
Erin F. - great fit and comfy feel
07/26/2016
Joseph G. - good quality
07/22/2016
Martha V. - Great fit, laundered well, and quality is excellent
04/13/2016
Susan P. - soft, 100% cotton, correctly sized
03/29/2016
Angela G. - Soft tee that holds up after many washes.
02/04/2016
Jeff H. - We buy this product because we try to support sweatshop-free products. The shirt itself is always of good quality.
11/12/2015
zach t. - good standard shirt.
09/24/2015
Beth R. - We ordered the "Mint" color--it's more like a light teal. It's so pretty. The fabric is durable. It's a quality shirt that our volunteers will wear more than once. I wish it was heathered, but that's ok!
09/14/2015
David K. - fits well and is comfortable
08/24/2015
Sydnie H. - Great shirt, runs a bit small, but super comfy
08/10/2015
Gautam N. - These shirts are amazingly comfortable!
07/22/2015
Brianne V. - The fit is great, not boxy like some tees. The fabric is soft but strong, and very light weight. Great product!
07/20/2015
Erik Z. - Great cut for the shirt, and the material is very comfortable. Worth the extra $$$
06/22/2015
Mitchell P. - High Quality shirt.
06/17/2015
Sandra H. - Nice, soft, quality t-shirt - well worth the extra money.
06/09/2015
Steph W. - So soft!
06/05/2015
jason h. - quality material - hard to size correctly though
05/29/2015
Nate H. - Feels great and is just the right size
05/20/2015
Hillary S. - Great quality shirt!
04/11/2015
Abbey B. - The brightness of the colors, the quality of the fabric
04/04/2015
Meghan F. - I like the quality of the cotton, very soft, probably would have picked the look a like but wanted something made in US, glad to have the options.
04/02/2015
Jeff H. - We use this product because it is sweatshop-free and because it is of consistently good quality.
03/26/2015
Marianne J. - The material is great!
03/08/2015
Danielle O. - Soft fabric, great fit
03/07/2015
Tonya C. - I like the quality and softness of the shirt. Also like to support a local business.
02/28/2015
Nick R. - This shirt is extremely comfortable and breathes well
12/12/2014
Cruz B. - Great fit, feel and look. Washes well. The cost is a little high making me feel like the markup is significant.
12/04/2014
David M. - great fit and very soft material
11/26/2014
Kim H. - Soft, clarity of print on shirt
11/08/2014
Paola M. - Super comfortable material!
10/18/2014
Shelby R. - How soft they are and lose fitted
09/17/2014
Josh Y. - Soft, and nice fit
09/04/2014
Paola M. - Very soft for a t-shirt, much more comfortable to wear than most!
08/28/2014
Jeff H. - that it is no-sweat and that the quality is quite good; I have many of them from years of orders with Underground Printing and they hold up well
08/27/2014
Drew M. - It all turned out great.
08/13/2014
Dave H. - The fit. The colors. The quality. Made in USA.
07/30/2014
Kevin K. - Makes my business look as professional as it is!
07/10/2014
Kevin M. - They are SOOOO SOFT, the colors are awesome, and AA shirts fit like a shirt should. Cotton for the win!
07/08/2014
Jeff D. - made in America, good color, good fit.
07/07/2014
Jennifer T. - great quality - very soft!
06/10/2014
Mark E. - Runs a little tall
08/16/2017
Lindsey S. - Soft, and great fit for a mid-price point.
11/22/2016
Susy I. - Great color and fabric
08/02/2016
Danielle O. - After a few washes, it tends to curl up on the bottom edge. Otherwise, great quality shirt.
08/01/2016
Melissa C. - Slightly larger than normal sizing
04/26/2016
Lisa R. - Like this shirt overall. The only thing students haven't liked about the shirt is the tight collar.
04/23/2016
Jamie A. - Not the softest of all the American Apparel shirts, but definitely the best value.
03/23/2016
Nathan C. - Comfortable shirt, great fit
10/27/2015
Marilou M. - Too tight around waist, like goes instead of staight. But overall love the fabric and enjoy wearing it!
10/17/2015
Ashleigh C. - not quite as soft as I was expecting
09/18/2015
Emily Y. - Nice high quality shirt. Wasn't quite as soft/thin as I was hoping a jersey shirt would be, but still a great shirt. Fit is a little narrow and s little long, but works for me
09/11/2015
Greg F. - very nice feel. runs slightly small.
09/05/2015
Rebecca S. - The size seemed to run smaller than expected and wasn't the soft jersey I was expecting, but the group was pleased with them anyway and they look great.
07/23/2015
Abeil A. - only time can tell how durable this shirt will be
06/19/2015
Lana P. - Runs a tad small.
03/21/2015
Jessica W. - a bit longer than expected, but really great quality
01/22/2015
Rob B. - Good quality cotton shirt. Does shrink after wash.
10/02/2014
Paul C. - Sizing is smaller than I would have liked
06/06/2014
Alexis C. - Nice shirt, the material was a little heavier than we anticipated but not too heavy like thick cotton.
06/05/2014
Tracy T. - American Apparel shirts run so tight!
10/21/2015
Pauline B. - The sizes run very small so everyone is purchasing one size up.
05/08/2015
Samer A. - Good quality shirt but it's sized a full size too small. I wear a medium in every shirt and this shirt was very tight on me.
08/16/2014
Chris H. - Love the quality, hate the sizing.