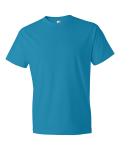 Caribbean Blue
S - 3XL
Anvil Fashion Fit Fitted T-Shirt - 980
This Anvil 4.5 ounce t-shirt is made from 100% ringspun cotton. The ringspun cotton gives the shirt a soft, comfortable feel. The fashion fit cut makes the shirt fit more snugly than a traditional basic t-shirt.
A sample of this product can be found at any Underground Printing location.

**COLOR NOTE: Heather and Neon Colors are a cotton-poly blend and feel different (softer) than 100% cotton Solid Colors.
Print Methods: Screenprinting, Digital Printing, Embroidery
Color Options

Black

Caribbean Blue

Charcoal

Charity Pink

Chocolate

City Green

Gold

Green Apple

Heather Blue

Heather Dark Grey

Heather Green

Heather Grey

Heather Purple

Hot Pink

Independence Red

Kelly Green

Key Lime

Lake

Light Blue

Mandarin Orange

Maroon

Navy

Neon Blue

Neon Green

Neon Orange

Neon Pink

Neon Yellow

Orange

Purple

Red

Royal

Silver

Smoke

Spring Yellow

Storm Grey

White

Show More Colors
Size Specifications
Size
Length
Width
S
27"
18"
M
28"
20"
L
29"
22"
XL
30"
24"
2XL
31"
26"
3XL
32"
28"
4XL
Our customers rate this product:
(151 Reviews)
Show Reviews:
5 Star
|
4 Star
|
3 Star
|
2 Star
|
1 Star
08/12/2017
Lee T. - Love the feel of the shirts and variety of colors to choose
07/27/2017
Corey S. - Super soft and comfortable. Totally worth the extra cost.
07/05/2017
TJ A. - Wonderful texture and super comphy, everyone loved the shirt!
06/13/2017
Laura B. - Unisex fit, sizing is accurate ie. the small is actually an adult small and not infant sized. Soft and comfortable!
04/29/2017
Vishna P. - So soft!
04/04/2017
Olivia K. - Met our expectations! Nice quality shirt, comfy - fit all genders nicely
02/03/2017
Christa R. - The product was exactly as it was described to me.
10/15/2016
Madison T. - Super soft!!
10/14/2016
Benjamin H. - Awesome shirt. Soft feel. Slimmer profile. Will order again.
10/14/2016
Natalie K. - Soft, true to fit.
09/06/2016
Cyd H. - They are soft and all fit well
09/06/2016
Amanda S. - Soft and comfortable, not too see-through
08/05/2016
Michelle J. - Very soft and comfortable
07/14/2016
Erica A. - Love it!
05/18/2016
Bill W. - Great fit and good color
04/30/2016
Dawn F. - The Anvil Fashion Fitted T-shirts are super soft and a great cut for both man and women. My clients love this shirt and I wouldn't ever order anything else.
04/25/2016
Suzi S. - Love the color, and the softness
04/20/2016
Beth G. - Love this fitted T!! So much better than other fitted brands that have shrunk terribly. Love the softness of the material as well.
04/13/2016
Erica F. - Very comfy and stylish.
03/28/2016
Ben E. - high quality to price ratio
03/28/2016
Jason M. - Fabric is awesome! Can wear these shirts any time; so comfortable!
02/23/2016
Julie B. - Very soft without being too expensive. We ordered a heathered shirt which is a cotton/poly blend and everyone loved how soft it was. They did seem to run small, which is probably because it's "fitted", but most of us went up a size and that worked out fine.
02/18/2016
Todd J. - it fits well, and the ones that are 50/50 poly/cotton are very soft and even somewhat stylish
01/28/2016
Jami B. - Soft, light weight, but shows sweat under pits easily.
01/15/2016
Kate Y. - It is SO soft!
12/29/2015
Yuliya M. - Very soft, love the heathered fabric
11/28/2015
Todd J. - great color, fit, and cut
10/31/2015
John D. - very soft fabric
10/27/2015
Erik G. - soft, durable, and looks more expensive that it is
09/22/2015
Trey A. - It's a really soft shirt, but yet still durable enough to go to the gym in.
07/24/2015
Molly C. - Did shrink a bit after a wash and dry, but fits pretty true. Very comfortable!
05/23/2015
Joe V. - Love the softness and cut of the shirts!
04/21/2015
Tammy E. - Comfortable and Fits Great!
01/20/2015
david f. - fit good, sleeves are longer than most
10/23/2014
Erik G. - Students were surprised by the high quality of the shirt. And the cost was what we needed.
10/09/2014
Abby B. - Very comfortable!
06/10/2014
Christina N. - LOVE IT!!! The material is soft and comfortable and doesn't feel stiff after you wash it
12/21/2016
Wally P. - Good quality at a value price.
12/20/2016
Ashley N. - Great product! Is fitted though - so if you're on the edge about a shirt size, size up! Super soft and great quality!
06/22/2016
Katie H. - Loved the shirts. Just the softness we were looking for. sizes were a little in between what would be a perfect fit (i.e. shoulders fit the M best, but body fit the S best) but otherwise, very happy with how the shirts came out.
05/06/2016
Sarah K. - Runs a little large (width and length) and doesn't come in an extra small for the colors we need.
01/15/2016
Peter T. - I liked that the material was soft and didn't shrink much after being washed. I wish it was more "fitted" and tapered at the waist.
12/17/2015
Eric H. - Quality material. Could be a slightly better fit for the price.
12/17/2015
Lindsay H. - comfortable and attractive
08/11/2015
Lauren Q. - I was hoping for the shirt to be a little lighter and more of a blended color, not solid. However, this was my bad because we were in a rush to get the finished product.
07/20/2015
Pierce G. - good shirt feels great doesn't shrink but its thin like an undershirt also the sleeve are very short and they ride up under your armpit
07/19/2015
Larry G. - Good feel - not the very best but affordable.
12/01/2014
Casey C. - Product shrunk a little more than expected on first wash and sizes ran a little small. Other than that the quality of the shirt is good. The style has a good look to it.
10/30/2014
Sarah C. - Some of the fits were a bit weird but I loved the texture of the fabric
10/20/2014
Rhiannon P. - Shirts were a little long but the blend was very soft.
02/15/2016
Amber B. - It's a box fit
12/04/2014
Randall S. - It definitely has a very slim fit, slimmer than aa even.
10/15/2014
James L. - Comfort fine, sizing off. L smaller than expected. can't really wear :-(