CATALOG >
Made in America >
American Apparel Fine Jersey V-Neck T-Shirt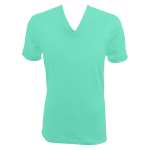 Mint
XXS - 2XL
American Apparel Fine Jersey V-Neck T-Shirt - 2456
This American Apparel unisex v-neck t-shirt is made from 100% fine jersey cotton for a soft, wearable feel. Some select colors are made from a cotton/poly blend.
A sample of this product can be found at any Underground Printing location.

**SIZING NOTE: This product is unisex. We recommend ladies size down one size (e.g. from Large to Medium).
Print Methods: Screenprinting, Digital Printing, Embroidery
Color Options

Ash Grey

Asphalt

Black

Cranberry

Forest

Heather Grey

Lapis

Lemon

Light Blue

Light Pink

Mint

Navy
Size Specifications
| Size | Length | Width | Sleeve |
| --- | --- | --- | --- |
| XXS | 26.63" | 15" | 7.75" |
| XS | 27.63" | 16.5" | 8" |
| S | 28.75" | 18" | 8.25" |
| M | 29.25" | 20" | 8.5" |
| L | 30.38" | 22" | 8.75" |
| XL | 31.38" | 24" | 9" |
| 2XL | 32.5" | 26" | 9.25" |
Our customers rate this product:
(116 Reviews)
Show Reviews:
5 Star
|
4 Star
|
3 Star
|
2 Star
|
1 Star
03/01/2017
Sae E. - it's very nice and soft. but it is very big. I purchased size medium, which normally is sausage casings on me, is very loose and drapey.
01/05/2017
Krista A. - Good shirt at a great price
12/27/2016
Yvette V. - Great stitching and soft cotton
11/18/2016
Natalie K. - Last a long time
10/22/2016
Sarah M. - We love the color and fit of this product. The design turned out great too!
08/29/2016
Kaitlin F. - Great V-Neck for Women, just remember they do run a little big so maybe go down a size.
07/26/2016
Tim T. - Exactly as advertised; guidance around sizing for females was critical
07/18/2016
Julie B. - Such a great shirt. Soft and color was beautiful.
05/20/2016
Sara C. - Great fit and very comfortable! I wish I had one in every color
04/22/2016
Catherine R. - fit = excellent
03/04/2016
Katrina G. - Fits great. I like that's it's sufficient in length and comfy.
12/25/2015
Sara C. - The shirt is very soft and flattering. It also stays nice for a long time. I've owned this shirt for 3 years, and it's still as soft and comfortable as when I first got it.
12/18/2015
Morgan H. - This shirt is the perfect mix of ffittied, but not too tight.
12/06/2015
KaCee D. - The fabric is very soft and the color is beautiful.
11/06/2015
Heather C. - Great product! Very cute shirt.
10/22/2015
Kaitlyn D. - Exactly as was described. We followed the sizing recommendations and they fit great!
07/10/2015
Gianna P. - Love AA and the quality of their clothing
06/05/2015
jason h. - hard to size though
03/24/2015
Ashley C. - Great fit, so soft!
01/23/2015
Aubrey S. - Shirts looked great, but it seemed like some of the sizes ran a little larger than what they were. Overall was very satisfied with the end results!
12/18/2014
Mark T. - The women like it.
12/13/2014
Ebere O. - very comfortable and good quality
10/30/2014
Sabrina A. - I love the fact that it's a v-neck, making it more feminine, but it still has a loose fit like any other t-shirt.
09/26/2014
Kirsten K. - Nice fit.
07/10/2014
Jake L. - It's great! Thought it was going to be softer but maybe after washing it will be more worn in.
02/13/2016
Lilli C. - Ran large, but fit nicely.
01/15/2016
Emma D. - Soft and comes in many sizes the only draw back is the sizing being so far off (meaning you have to go down a whole size to get it to fit right)
10/28/2015
Yoshita H. - The print margins weren't very clean, but that was probably the graphic I sent.
09/16/2015
Rebecca M. - For women--runs long, not wide. But, well received.
08/12/2015
Ciara K. - The v-neck is super comfortable and the v is the perfect cut!
06/22/2015
Mitchell P. - V is a bit deep. Good quality shirt though.
04/14/2015
Catherine R. - I wish they had more colors!!
12/01/2014
Allie C. - The smallest size offered was a small, which was fairly large on some girls still, but the fabric was nice and the product was as well.
11/26/2014
Kim H. - Some people felt the v-neck was too low
11/18/2014
Allyson W. - This runs a little bigger than true to size, but the quality is really good
07/30/2014
Rebekah N. - High quality fabric. Liked how long it was. Surprised by how big the men's sizing (yes, the label said that) sizing was despite the fact that it was "unisex."
06/20/2014
Sarah K. - I love them but have had complaints they shrink and run small
06/06/2014
Alexis C. - Great color, the sleeves were a little longer than traditional sport cut v-neck shirts, this was not appreciated well in the pictures. It is a unisex shirt so it was an understandable design, it just wasn't obvious by the photos.
05/21/2016
Rachel A. - This is a unisex shirt, so if you are a female with hips, this will fit very tight at the bottom, causing a strange look. The website suggests ordering down a size from normal, which I did. The top of the shirt fit perfectly, but the bottom was very tight and uncomfortable. When getting my normal size, the bottom fit better, but then the top was a bit too big. Straight cut shirts are tricky for women, so just be aware if you have hips!
11/10/2015
ALLY Y. - Bigger than expected