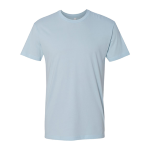 Light Blue
XS - 3XL
Next Level Mens Fitted Short-Sleeve Crew - 3600NLA
This t-shirt is made of 100% combed cotton jersey, 4.3-oz., 32 singles for extreme softness. It features a 1x1 baby rib-knit set-in collar and tear away label.
A sample of this product can be found at any Underground Printing location.

**Please note** Select garments are heathered. Display is an approximation of color.
Print Methods: Screenprinting, Digital Printing, Embroidery
Color Options

Banana Cream

Black

Cardinal

Cool Blue

Cream

Dark Chocolate

Forest Green

Gold

Heather Grey

Heavy Metal

Indigo Blue

Kelly Green

Light Blue

Light Grey

Light Olive

Light Pink

Maroon

Midnight Navy

Military Green

Natural

Purple Rush

Red

Royal

Sand

Tahiti Blue

Turquoise

Warm Grey

White

Show More Colors
Size Specifications
| Size | Length | Width |
| --- | --- | --- |
| XS | 27" | 35" |
| S | 28" | 38" |
| M | 29" | 41" |
| L | 30" | 44" |
| XL | 31" | 48" |
| 2XL | 32" | 52" |
| 3XL | 33" | 56" |
Our customers rate this product:
(354 Reviews)
Show Reviews:
5 Star
|
4 Star
|
3 Star
|
2 Star
|
1 Star
08/14/2017
Kristel B. - We really like how soft they are, and the price.
08/12/2017
Cheryl R. - Soft and a light weight.
08/08/2017
HyungChan M. - I have always liked the feel of NLA3600. My customers still after a year saying how soft he feels. It is one of those shirts that wash like denim, they get a bit softer and softer each wash.
08/08/2017
Orlando H. - Feels really good.
07/08/2017
Tracey H. - Great all around - good fit and soft.
07/06/2017
Adam P. - Perfecto! Great feel. Thin material and the logo looks solid.
07/05/2017
Loren B. - Very soft shirt, perfect Navy color. Print turned out great.
06/23/2017
Raza Z. - Super soft, somewhat fitting, but not too snug - love it!
05/30/2017
Jenny E. - Nice quality fabric that doesn't shrink
05/24/2017
Chelsea B. - very soft and comfortable
05/14/2017
Tim F. - Not usually my style but but a real nice feeling fabric.
04/30/2017
Maci R. - Perfect for Unisex
04/04/2017
Chris M. - The perfect amount of softness and the print seems built to last.
03/28/2017
Mary S. - very comfortable!
03/07/2017
Diane G. - Soft
02/21/2017
Joanna L. - This Tshirt is so soft, everyone loves it.
12/29/2016
Megan L. - Staff really like them!!!
12/27/2016
Debbie H. - Attractive, and good quality.
12/21/2016
Christna W. - Hi-quality; well-printed
11/19/2016
Stephanie T. - Great fit, soft material
11/04/2016
Madison M. - very comfy and not too expensive, high quality for a low price
10/25/2016
Kennedy L. - Great fit and very soft!
10/23/2016
Lisa H. - Comfortable, soft
10/20/2016
Debbie H. - They turned out very attractive.
10/12/2016
Daniel S. - Almost identical quality as American Apparel but way cheaper.
10/06/2016
Claire p. - super soft
09/25/2016
Matthew D. - Comfortable and stylish.
09/11/2016
Heather E. - It is so soft! And not much more expensive
09/09/2016
Stehpanie O. - Soft to wear & displays the art well. I like anvil.
08/22/2016
Denise R. - The color was perfect and very nice shirts for the price
08/18/2016
Lisa K. - The camp leaders loved their staff shirts.
08/16/2016
WV C. - quality
08/08/2016
Phyllis T. - For feel, fit, price and colour options- perfect t
07/26/2016
Jan G. - Quality and fit was perfect!
07/12/2016
Andre M. - Great fit, super soft, didn't shrink much. Great shirt.
07/09/2016
Alicia F. - Very soft and affordable
07/06/2016
Aimee K. - Super soft, nice material
06/25/2016
Mark S. - Perfect fit and feel. I really like the lighter weight, athletic fit tees and these are as good as any other.
06/20/2016
Jason R. - Comfortable and more affordable than the brand name.
06/09/2016
Justin K. - Shirt is super comfortable and the designs look awesome.
06/09/2016
Chris H. - Love this shirt. The material is so soft and comfortable.
06/03/2016
Jeremy C. - Product was great. Very clean and professional.
05/31/2016
Vanessa B. - Loved how soft the fabric was
05/23/2016
Rachel M. - Super soft and comfy feel!
05/07/2016
John R. - Very nice comfortable material and great printing.
05/04/2016
Hector G. - Great fit!
05/02/2016
Eric R. - Very soft, and true to size. All of our volunteers love their new shirts!
04/30/2016
Eileen H. - Super soft! Nice color.
04/14/2016
Christy G. - Love how soft it is
04/06/2016
Katrina P. - Really soft, doesn't shrink, looks great!
03/25/2016
Angela W. - The guys shirts are really nice. Good quality. Super soft.
03/16/2016
Bonnie R. - The shirts are just the right blend to make them super comfortable. Very pleased with this selection of shirt!
03/10/2016
Paige C. - Love the fit!
03/09/2016
Sue B. - Nice soft material-washes well
03/04/2016
Matt F. - soft texture, tight neck
02/24/2016
Tom O. - great quality. and color.
01/10/2016
Brittany F. - Material is soft and comfy, fits to size
01/06/2016
Robert C. - Came exactly as envisioned using there online design software
01/04/2016
shenya t. - Highly satisfied with everything!
12/30/2015
Beth O. - Was nice quality shirt for the price.
12/29/2015
Honorée M. - High quality, great design.
12/10/2015
Rachel G. - Runs a little larger for females, but overall great product!
12/09/2015
Raza Z. - Soft, great fit!
11/15/2015
Jim C. - Form fitting and comfortable. Women like these shirts.
10/12/2015
Krista L. - Soft, comfortable, doesn't shrink, everyone loves this shirt when we print on them
10/04/2015
Jim C. - Great fit!
09/29/2015
Anna B. - Looks and feels great!
09/24/2015
Brian S. - Feels and looks great!
09/13/2015
Brandon H. - Great fit, soft and high quality
07/24/2015
Josh M. - Felt Great. A little slim
04/30/2015
Jocelyn M. - great softness with good cost, good suggestion by Madison as a lower cost alternative to American Apparel
04/29/2015
Shira M. - soft, cheap, fit people nicely
03/16/2015
Danielle B. - Nice feel, good value
02/20/2015
Joe C. - No complaints. Good shirt.
01/22/2015
Jules C. - Soft, good fit, and inexpensive
01/15/2015
Lincoln S. - Comfortable and stretchy fabric.
12/03/2014
Stephanie M. - So soft!
12/01/2014
Meredith W. - Soft material in the exact navy blue we needed.
11/06/2014
Nicole K. - Very comfortable and it fitted well
10/30/2014
Shyla R. - These shirts are amazingly soft and they might look a little big when you first receive them but they shrank in the wash and now fit perfectly.
09/25/2014
Kim E. - Good quality - true to size - accurate color to website
09/14/2014
John L. - love the softness of the material. Very comfortable.
06/26/2014
Michael L. - Love the fabric and the look of the print job.
06/25/2014
Rapheal B. - great material
01/16/2017
Susan P. - runs a little small
12/10/2016
Pamela B. - Nice fit
11/18/2016
Michele L. - They are a bit more tight to fit
11/03/2016
Alan U. - The fit is great, and the material is perfectly soft. It just shrinks a little over time.
10/22/2016
Garrett R. - I got unisex for my department and they ran a little short in length. Other than that they were great!
07/26/2016
Tony N. - a touch small, but very soft
07/07/2016
Kayla K. - Fits nicely. Soft material.
06/09/2016
Abigail R. - Great soft fabric
05/23/2016
Sarah B. - Runs a bit smaller than traditional t shirt sizing. otherwise great product
04/09/2016
Kati M. - The shirts are pretty comfy and nice quality for the price!
03/13/2016
Ross v. - Shrank a bit but other than that very good!
01/13/2016
CareyLynn F. - Nice generous size.
12/01/2015
Zac L. - They run smaller than american apparel but otherwise are pretty cool
09/23/2015
Andrew K. - Nice shirt, good fit, wish it was a little softer for the money
09/23/2015
Elizabeth H. - Soft, not white, but the fitted shape is a little tighter than expected for some women.
06/25/2015
Beejal G. - Not as soft as we had thought they would be. Had ordered the same brand in the past, and maybe different shirt colors have different feels. Overall still a very good Tshirt with good fit on different body types.
06/22/2015
John K. - they are a little on the short side.
04/08/2015
Angela H. - Really soft fabric! Light weight- I know it will be comfortable on a hot day. Fits a little tighter than a "traditional, heavy cotton t-shirt" - but we planned for that and encouraged most people to order one size larger than they normally order. Everyone is very happy!
03/04/2015
Alexander M. - Could be fitted slightly more. Colour is great, though, and shirt is super soft!
02/27/2015
Anne S. - Great material and fit
01/13/2015
Jonathan Y. - Color is really vibrant, Quality is definitely a step-up from your basic T-shirt and at a good cost!
11/05/2014
Jonathan T. - Great quality better price.
10/22/2014
Tim R. - Sizing is always a question. They seemed to run small.
09/16/2014
Sarah B. - Also good quality, but ran on the large side.
11/24/2014
Jan P. - Again the quality of this tshirt material is poor. I'm sure that it will shrink and discolor with each and every wash.
09/06/2016
Katie B. - They didnt come in the embroidered style, they were screen print and the colors we nothing near the original.