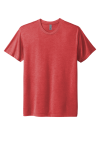 Vintage Red
S - 3XL
Next Level Mens TriBlend Crew Neck - 6010
This 4.3-oz. t-shirt is a blend of preshrunk 50% polyester/25% cotton/25% rayon jersey It features 32 singles for extreme softness, 1x1 rib-knit set-in collar and a satin label.
A sample of this product can be found at any Underground Printing location.

**Please note** All garments are heathered. Display is an approximation of color.

Color Options

Envy

Heather White

Indigo Blue

Macchiato

Military Green

Premium Heather

Venetian Grey

Vintage Black

Vintage Navy

Vintage Purple

Vintage Red

Vintage Royal

Vintage Turquoise
Size Specifications
| Size | Length | Width | Sleeve | Neck |
| --- | --- | --- | --- | --- |
| S | 25.5" | 16.75" | 5.25" | 7.75" |
| M | 26.5" | 17.75" | 5.5" | 8" |
| L | 27.5" | 18.75" | 5.75" | 8.25" |
| XL | 28.5" | 19.75" | 6" | 8.5" |
| 2XL | 29.5" | 20.75" | 6.25" | 8.75" |
Our customers rate this product:
(310 Reviews)
Show Reviews:
5 Star
|
4 Star
|
3 Star
|
2 Star
|
1 Star
09/11/2017
Jacob W. - Love the soft feel.
09/06/2017
Tiffany B. - A Great look and good performance as well!
08/17/2017
Lisa K. - Great quality!
08/09/2017
Ashley K. - Super soft and comfy!
08/08/2017
Georges S. - Cooler than cotton. Does not shrink. Fits very well.
08/08/2017
Courtney P. - liked the fit, feel, and true to size sizing
08/07/2017
Mary C. - great quality, runs a bit tighter than most mens tees
08/02/2017
Nick L. - Fit, comfort, and quality. Great customer feedback.
07/16/2017
Terry C. - Ordered a custome t-shirt. Fits great and the artwork is perfect!
07/09/2017
Beth H. - We made this higher-quality shirt available for order, and it was definitely worth the extra money. It is so soft.
07/08/2017
Megan B. - It's so soft, and comfortable, totally worth the extra cost for a shirt that I will look forward to wearing again and again!
06/27/2017
Abigail K. - Super soft!
06/22/2017
Caitlin G. - LOVE the material!! Everyone was very pleased with the material!
06/11/2017
Gene D. - It is perfect!
05/14/2017
Tim F. - Nice color fits a feels great.
05/08/2017
Michelle M. - Great fit and feel of the fabric.
04/04/2017
Christine W. - Exactly as we ordered. Thanks!
03/24/2017
Emily K. - soft and comfy
02/20/2017
Halli B. - Looks great, super soft. washes pretty well.
01/28/2017
Carolina O. - Extremely comfortable. Wish there were more colors to choose from.
01/24/2017
Scott P. - high quality shirts
01/11/2017
Thomas R. - Really soft, great feel, & excellent fit
12/21/2016
Brittney B. - Great, as always.
12/20/2016
Lauren A. - Softer than a puppy!
12/13/2016
Molly D. - color is great, so soft! my friends all loved it.
11/29/2016
Chase D. - Comfortable and a great fit
11/08/2016
Kerin H. - Loved how soft they were - except the white shirt was a little softer than the grey.
11/04/2016
Ming T. - Loved how soft it was
11/04/2016
Andrew U. - great feel and fit.
09/21/2016
Priyanka R. - soft and comfortable
09/07/2016
Savanna C. - Great shirt! So soft and looks good.
08/31/2016
Steve S. - Soft blend and good printing
08/30/2016
Daniel T. - Soft, cool, moisture wicking, sized right
08/27/2016
Jenna M. - SO SOFT! we love them
08/16/2016
David N. - We love this shirt, it's so soft! We've had many clients who we've gifted this shirt to comment on how much they love this shirt.
08/12/2016
Steve G. - Love these shirts! Great quality and don't shrink too much. Very nice quality.
08/11/2016
Banning Y. - Super soft!
08/04/2016
Sandy L. - Racers loved them.
08/02/2016
Kara H. - Loved the softness of the t-shirt. They were true to size as well.
08/01/2016
Julie M. - So soft! Just a really good all around shirt people want to wear! Not just a t-shirt you wear to a team event because you have to but a feel-good shirt. Bye-bye scratchy, itchy, hot shirts that don't fit well.
07/31/2016
Cynde W. - Very soft.
07/26/2016
Meghann W. - Loved the fabric!
07/25/2016
Alexia L. - Very soft and light weight!
07/14/2016
Karl M. - Amazing value for a very high-end shirt!
07/09/2016
Georges S. - Everything I expected. Nice people, and a fabric that I did not know existed, but is the most comfortable I've ever worn. Thanks!
06/03/2016
Hillary W. - soft shirts, love them!
05/30/2016
Thaddeus O. - Soft, fits perfect, very nice shirt
05/14/2016
Tricia W. - The fit and softness of the tee was outstanding
05/13/2016
Matthew G. - Our students loved how soft it is
05/06/2016
Cre E. - Great fit! Soft! Solid feel!
04/22/2016
Audrey B. - We continue to use this shirt and it's one of the softest around. We get so many compliments at the event. It's a shirt people actually wear!
03/16/2016
Maddison J. - So soft and really good color
01/05/2016
Sharon B. - I really liked the softness of the tshirt..
01/03/2016
Carrie M. - The shirt is really soft and comfortable, the image was perfect and captured exactly what I was looking for.
01/01/2016
Pam C. - tshirt was a great fit and loved the softness of the fabric
12/26/2015
Linda L. - Liked it - it is nice and soft
12/19/2015
Pam F. - So soft and comfortable. A winner in our department.
12/15/2015
Lisa Z. - We love the softness of this shirt!
12/08/2015
Dom and Dom M. - Soft. Very soft and a great fit for an athletic build
10/22/2015
Laurie C. - Great, affordable and super soft
09/29/2015
Matthew G. - Great feel, holds up in the wash
09/22/2015
Trey A. - Again a really soft shirt that's fitted really well. I like that even though it's a larger size it still tapers my body and doesn't look baggy.
08/31/2015
Nicole M. - This is a good quality t shirt. Love the feeling of them.
07/13/2015
Barbara B. - We loved the fit, the look and feel of these t-shirts. Highly recommend them and we will definitely use them again.
06/24/2015
Dianna P. - nice fabric
06/08/2015
Gerry B. - Love the fit and the material. Very slim fit.
05/29/2015
Adam F. - As soft as the American Apparel and 2/3 the cost.
05/09/2015
Sarah C. - Excellent! And super soft!
05/07/2015
Lianna C. - Great shirt, super soft and fits true to size
05/06/2015
Parker K. - The shirt is so much softer than a regular T-shirt, but not significantly more expensive. We were able to get a lot more interest in the shirts without paying much more out of pocket.
05/04/2015
Audrey B. - So soft and the color was exactly what I was looking for.
05/02/2015
Morgyn G. - Super soft, extremely comfortable, affordable.
04/06/2015
Scott P. - Nice quality material and I like its color.
02/19/2015
Alexander K. - Great quality and looks at an affordable price.
12/11/2014
Ben R. - This is an extremely soft t-shirt that I will wear for years to come!
11/10/2014
Geraldine C. - soft material, classic colors
11/06/2014
Stephanie F. - So comfortable, everyone loves them!
08/30/2014
Phil B. - NextLevel cost less and is nicer than AA. We appreciate the suggestion!!
07/02/2014
Catherine A. - Comfortable, looks great
06/04/2014
Alex W. - Great quality! All of the alumni commented on the t-shirts.
08/20/2017
Kevin F. - comfy
06/22/2017
Forrest B. - Not the fit for my old and out of shape body.
03/02/2017
Amber A. - Great material! Runs small
01/30/2017
Roberto G. - It feels very good. The only caveat is that perhaps due to its softness, the collar doesnt stay round. It gets wrinkled easily throughout the day.
08/16/2016
Marie B. - Super soft, slightly more fitted, great general shirt
08/11/2016
Tom W. - The sizing was somewhat small.
06/29/2016
Laura S. - Little big
05/19/2016
Emma K. - After a lot of use they pill up, but they are incredibly soft and serve their purpose quite well.
04/21/2016
Terence C. - it's got a nice feel. wish it came in nonheathered colors.
03/31/2016
Sam M. - The worn feeling is the selling point for this product.
11/21/2015
Jacquie K. - I don't like the feel of polyester. Itchy
09/03/2015
Ryan M. - Could be a little more lightweight and form fitting. May just have to look at a different shirt for that.
05/29/2015
Melinda C. - looks good
04/29/2015
Lewis B. - Great value.
03/22/2015
Ari E. - So soft and the design came out perfectly. My only complaint is that the shirts run a bit big.
02/24/2015
Kelley K. - It seems to run a little large, but is soooo soft. No shrinkage with wash/dry.
11/05/2014
Jonathan T. - Nice and comfortable material, affordable price.
10/05/2014
Jason R. - Nice shirt!
08/14/2017
Sasha W. - They were a little on the small side and after washing in cold and NOT drying they still shrunk a little
05/24/2017
Jessica S. - The Venetian Gray color was significantly different from the swatch online. The premium heather swatch was much more accurate.
08/25/2016
Jessica H. - I think they run larger than I was expecting. We looked at a sample in the store and it didn't look the same as when we had it in hand. I do like the color and feel of the shirts, though.
08/09/2015
Brant K. - While they were very soft and high quality, the fabric seems to run small and/or fits tight in all areas, which some people don't appreciate, especially if you're even a little overweight. I wish I had known this before ordering.
08/25/2016
Jessalyn H. - T-shirt itself was fine.
08/12/2015
Jonathan L. - Comfortable but even as a man I needed to wear another shirt under it to use it at a casual conference. (It's clingy by itself.)
11/09/2016
Jon K. - mens small's are way smaller than expected- practically womens' smalls.