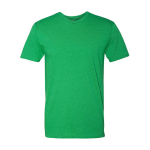 Kelly Green
XS - 3XL
Next Level Mens CVC Crew - 6210
This cotton/poly tee comes in a wide assortment of colors.
A sample of this product can be found at any Underground Printing location.
Print Methods: Screenprinting, Digital Printing, Embroidery
Color Options

Apple Green

Banana Cream

Black

Bondi Blue

Cardinal

Charcoal

Cream

Dark Heather Grey

Espresso

Ice Blue

Indigo Blue

Kelly Green

Light Olive

Midnight Navy

Military Green

Mint

Neon Green

Neon Yellow

Orange

Purple Rush

Red

Royal

Sand

Silk

Stone Grey

Storm

Turquoise

Warm Grey

Show More Colors
Our customers rate this product:
(145 Reviews)
Show Reviews:
5 Star
|
4 Star
|
3 Star
|
2 Star
|
1 Star
08/02/2017
Lindsay M. - Everyone loves these shirts, they fit well and are great quality material
07/07/2017
Andrew M. - fit, fabric, durability
06/28/2017
Lisa Z. - Great soft shirt!
06/20/2017
Jennifer T. - nice feel to the product, it did not feel thin and cheap like our previous vendor
05/05/2017
Colin R. - Love the 60/40 blend.
02/03/2017
Jesse Z. - high quality, very soft
01/10/2017
Suzanne M. - One of the best men's t shirts I have ever seen!
12/30/2016
Bryan W. - I like the material these shirts are made of. Very comfortable and made with great quality at a very fair price. I especially love how great they fit me personally. It is VERY hard for me to find any clothes that fit this well so it is just awesome that I found this brand of apparel.
11/17/2016
Madison P. - It was very soft and comfortable! Great fit
10/26/2016
Emilie T. - So soft and breathable material!
10/03/2016
Amber R. - Super soft shirts and the color was great!
09/27/2016
Jenny M. - very soft and perfect unisex style
08/11/2016
Colin S. - Great shirt that fits well & looks cool!
07/25/2016
Sammy D. - So soft, fits everyone well
07/24/2016
Natalie H. - Extremely soft and very true to size.
07/20/2016
Andrew M. - Great fit and very comfortable fabric.
07/20/2016
Suzanne M. - Such and excellent shirt - soft and well fitting. Washes well.
05/18/2016
Steve S. - Very nice.
05/15/2016
Clare S. - Very soft and comfortable
05/07/2016
Hayley H. - So soft!
03/17/2016
Matt G. - the material soft and fits well
03/02/2016
Megan K. - great feel and look! looking forward to rolling it out to the racers
10/13/2015
Cameron D. - Comfy stretch, long torso for a medium. I'm 5'11, and this fits my "barrel chest" very well.
08/26/2015
Shari V. - Color is great (so hard to tell online), soft and durable.
05/12/2015
Katie P. - T-shirts are beautiful. Very soft.
02/18/2015
Nick L. - Feels great. Very wearable.
12/27/2014
Julie D. - Super soft, great fit.
09/02/2014
Aaron M. - Extremely comfortable! Everyone was impressed with the quality of the shirts.
08/14/2017
Abigail S. - It's a nice product, but the color was not quite what I hoped, and it's definitely not as soft as the American Apparel we were hoping to replace.
10/13/2016
Alex S. - Felt like a nice shirt. Would take any day over the standard cotton.
07/06/2016
Robyn D. - good fit, soft hand.
05/10/2016
Kathi C. - Pretty soft
04/19/2016
Matt F. - Very nice fit. Longer than a usual T. Great feel.
11/18/2015
Anne E. - The shirts are great quality: soft fabric and great cut.
03/21/2015
Kenny H. - Comfortable and soft.