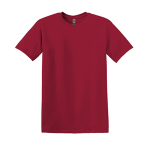 Cardinal Red
S - 3XL
Gildan SoftStyle T-Shirt - 64000G
This Gildan t-shirt is made from deluxe 30's soft style yarns giving the shirt a soft, comfortable feel. The fashion fit cut makes the shirt fit more snugly than a traditional basic t-shirt.
A sample of this product can be found at any Underground Printing location.

**COLOR NOTE: Heathered Colors are a cotton-poly blend and feel different (softer) than 100% cotton Solid Colors.
Print Methods: Screenprinting, Digital Printing, Embroidery
Color Options

Antique Cherry Red

Antique Heliconia

Antique Sapphire

Black

Cardinal Red

Charcoal

Cherry Red

Cornsilk

Dark Chocolate

Dark Heather

Heather Irish Green

Heather Military Green

Heather Navy

Heather Orange

Heather Purple

Heather Royal

Indigo Blue

Irish Green

Kiwi

Light Blue

Military Green

Navy

Orange

Purple

Red

Royal

Sand

Sport Grey

White

Show More Colors
Size Specifications
Size
Length
Width
Sleeve
Neck
S
27"
18"
15.75"
6.75"
M
28"
20"
17"
6.75"
L
29"
22"
18.25"
7.63"
XL
30"
24"
19.5"
7.63"
2XL
31"
26"
20.75"
7.63"
3XL
32"
28"
22"
Our customers rate this product:
(444 Reviews)
Show Reviews:
5 Star
|
4 Star
|
3 Star
|
2 Star
|
1 Star
09/14/2017
Abby H. - This shirt is the best. I love that it's soft and medium thickness, but not beefy or too thin. The heather military gray is really nice for our environmental shirts. It is a little fitted, but doesn't run too small in my opinion.
08/18/2017
Josh L. - WE REALLY LIKED THE MATERIAL OF THE SHIRT
08/11/2017
Felix L. - Great fit and texture.
08/07/2017
Matt H. - Fits well. Print looks awesome.
07/26/2017
Jessica M. - Loved the soft t-shirt!
07/19/2017
Cherie C. - lightweight and conforms to the body better than other fabrics.
06/29/2017
Ana Lena C. - Love the heather soft style!
06/14/2017
Ashley H. - Love the feel and look
06/12/2017
Paul K. - Big upgrade over the base Gildan shirt. Lovely texture and feel.
06/07/2017
Teresa C. - Quality of shirt material
05/22/2017
Julia K. - LOVE THE FEEL AND COLOR!
05/06/2017
Benny S. - Great material
04/06/2017
Emma P. - Very soft and for a good price
04/03/2017
Amanda R. - True to size
03/24/2017
Greg P. - Construction quality was great, soft and fit was perfect.
02/25/2017
Tommy G. - Very tapered fit
12/21/2016
Dylan M. - Very soft, great fit
11/28/2016
Stephanie T. - Great soft tee that's true to size. Recommend the heather styles in particular.
11/28/2016
Sam D. - Very soft for how reasonable the price was
11/25/2016
John M. - A good t-shirt especially for the price.
11/18/2016
Natalie K. - Really soft!
11/14/2016
Dana C. - Visual aesthetics, softness and comfort of shirt.
10/23/2016
Audrey V. - Super soft!
10/18/2016
Paige A. - very soft, great color, accurate size
10/14/2016
Alison K. - It's so soft and fits well. This is the first t-shirt we've ordered that I actually see a lot of students wearing around.
10/01/2016
brandy c. - Great fit, material is good quality and comfortable/soft
09/12/2016
Mary J. - Great Shirt! Fits well, is durable, and is perfect for hot climates.
09/08/2016
Olivia V. - Soft, true to size, reasonably priced.
09/05/2016
Brooke S. - Love how soft the fabric is!
09/03/2016
Seth N. - Soft, quality product
09/01/2016
Lizz P. - Soft, comfortable, high quality
08/22/2016
Michael K. - Great T-Shirt - soft, comfortable, and looked good on all who wore it.
08/12/2016
Bob R. - great feel and fit. only negative is the tag. would be great if they would be tagless
08/09/2016
Pamela R. - Nice and soft!
08/02/2016
Christopher K. - The shirts are very soft, comfortable, and the perfect cheaper alternative to the more expensive items.
07/25/2016
TJ F. - The feel and fit are very good, and the print quality is great. The shirts do seem to shrink a bit more than expected with heated dry.
07/23/2016
Christy B. - Soft and fit true to size!
07/15/2016
Christy M. - Love the price, color options, and fit
07/10/2016
Roberto L. - Good fit, true to size, the print looks great!
06/20/2016
Matthew N. - Very soft, comfortable, and fits great.
06/17/2016
Brian M. - Comfy shirt
05/25/2016
Susan C. - This shirt is super soft and true to size.
05/18/2016
Bill W. - Great fit and good color
05/14/2016
Kelly D. - Great material
05/02/2016
Christine H. - Soft and fitted really makes me want to wear this t-shirt more - love how the colors turned out!
04/27/2016
Ali M. - Everyone loved this shirt.
04/21/2016
Stephanie M. - it's so nice and soft
04/13/2016
Parker K. - Great quality and shape. Everyone seemed satisfied with the sizing and feel.
04/08/2016
Ken R. - We order this every year and get no complaints - great shirt.
03/31/2016
Anna S. - Many people remarked on the softness of the shirt and how comfortable it is to wear.
03/27/2016
Melissa R. - soft, fits well!
03/20/2016
jenn b. - The soft style is a great shirt - durable but lightweight. Perfect for hot days on our mission trip!
03/12/2016
Madison D. - Super soft! Great fit
03/05/2016
Klarissa L. - Fits great and is so soft and comfortable!
03/01/2016
Julia I. - It is a very comfortable t-shirt
12/01/2015
Maureen I. - Soft. Cut
11/27/2015
Rachel K. - The fit and quality of this shirt was great.
11/11/2015
Christy M. - Loved it, great fit and very soft while still very durable. Great price point.
10/30/2015
Danny S. - Vintage and fitted look at a good price.
10/14/2015
Trixie G. - exactly what i wanted and love how soft it is
10/13/2015
Cat B. - The shirt is very soft, love it! The men's shirt sizes are large on girls, but there is only so much you can do about that. It is a men's shirt after all.
09/18/2015
Michael J. - Feel and fit are excellent
09/17/2015
Elena G. - Artwork was transferred beautifully to t-shirt.
09/17/2015
Sarah B. - I like the weight and consistency of the material. The heathered color is really nice, too.
08/30/2015
Anthony A. - Very soft and very comfortable. Everyone loved it. Sizes S, M, L, XL all pretty close to size (just a TAD on the small size since they are fitted); however the small size seemed verrry small.
08/28/2015
Ani B. - I liked the feel of the shirts and especially the price.
08/24/2015
Claire S. - stylish fit, super soft
08/23/2015
BRENDA B. - Exactly what I wanted.
08/18/2015
Ryan K. - Great shirt and not too expensive. Recommended for other student projects.
07/29/2015
Matthew N. - A softer, medium weight tee. Not too heavy, scratchy, or cheap feeling.
07/25/2015
Amy J. - Soft!
07/10/2015
Hannah K. - The fit and printing was great quality!
07/01/2015
Kathleen A. - Good quality, soft, and affordable!
06/16/2015
Melanie K. - Loved the color and softness of the shirt.
06/09/2015
Liz P. - It is a little smaller than normal, but the softness feels great
06/04/2015
Cecile S. - I went through several samples and especially for such a low price, the softness can't be beat. It also had a more flattering cut than just the basic tees.
05/03/2015
Zach B. - Very soft for it's low cost.
04/16/2015
Kara K. - Super comfy and fits perfectly. Not too much slack and not hugging your body either. I love it.
04/14/2015
Bryan H. - This shirt felt like a premium shirt while only costing a fraction of that price.
04/07/2015
Tina N. - Loved the quality of the shirts!
03/29/2015
Muhammad M. - Soft shirt material.
02/24/2015
Grant Y. - Great, especially with the 65/35 blend, especially when it's ringspun
02/08/2015
Nicole C. - Incredibly soft, love the fitted style
02/05/2015
Holly E. - Gildan shirts are great - not much shrinkage and they just get softer with age.
01/24/2015
Vikram R. - great quality, great lead time in ordering, tons of selection and options.
01/08/2015
Monica M. - Like the product! Looks Great! and my friends are admiring it!
11/25/2014
Kelsey B. - Quality product!
11/25/2014
Makenna N. - Very soft, quality material, beautiful heathering.
10/21/2014
Mark P. - Cut the sleeves off and trimmed it at the belly section to give it that cool retro look. Love it!!!!
10/10/2014
Holly E. - It's a shirt that just keeps getting more comfortable with age. We love them!
10/06/2014
Ellen S. - It's soft and durable
09/29/2014
Robin G. - lovely! soft fabric, nice cut, no noticeable shrinkage
08/26/2014
Alicia P. - Love the shirt! Stood the test of Warrior Dash.
08/14/2014
Audrey D. - Exceptional! Color, size, font and fit are all a perfect match to our company's logo! Well done
08/12/2014
Victoria L. - Exactly what I ordered. Good t-shirt.
08/06/2014
Jill W. - comfortable and washes well
07/10/2014
Maureen F. - My client liked both the fit and the material.
06/21/2014
Doug D. - Quality combined with Value.
06/19/2014
Micah C. - Shirts were soft, lightweight, and fit well.
06/15/2014
Ryan B. - Great fit! Soft and breathable on a hot Summer day.
06/13/2014
Sheela R. - I've used this product before and it continues to be a great, soft, well-fitting shirt. I also enjoy the color choices.
06/10/2014
Shannon S. - Love them! Worth the extra money if you actually want people to wear the shirts and market your event.
06/02/2014
Holly E. - Looks nice. Deep, rich color.
08/21/2017
Jill L. - Material and color great!
08/15/2017
Stacy B. - Nice fit. Some of the sizes are much softer than other ones. I can see from the label that different sizes were made in different places.
07/21/2017
Greg S. - It's not a tri-blend, but it's a lot cheaper!
06/02/2017
Erin B. - Love the style, feel, and weight if the shirt. They do shrink so be aware of that when fitting because it is a more fitted shirt.
05/04/2017
Ryan G. - The shirts are super soft, and the colors great. The fit is good overall as well, albeit a bit long for most.
11/08/2016
Hannah B. - The shirt's sleeves are uncomfortable when the arms are lifted overhead. Otherwise, it is a great length and comfortable lightweight cotton
10/01/2016
Stormie M. - Good fit. Nice and soft!
09/12/2016
Chris C. - Tight in the underarm, tight across the chest. Sizes reflect more of european sizing.
09/07/2016
Annie V. - the sizing runs small
09/06/2016
Megan L. - Would have given it 5 if it had more colors to choose from (seemed like all the colors were light and there weren't many darker/vibrant colors).
08/10/2016
Emil B. - could be softer and thinner, but for the price it's great
07/26/2016
Riko C. - Runs a little smaller than expected
06/28/2016
Mike V. - Somewhat tight fitting but certainly worth the price!
05/17/2016
Jeff S. - Like the material and color. Feel the sizes are a little smaller than most.
04/20/2016
William B. - The shirts are very soft, which everyone loved. The only complaint is that they come extremely true to size; most other shirts have a little bit of wiggle room/space.
04/18/2016
Jessica Y. - Shirts were a little longer than I expected
02/25/2016
Susan B. - Nice weight and very soft. Gave it 4 stars because it was a gift, so I don't know how it washed.
02/05/2016
Stephanie D. - Like this shirt and the softness, wish it were a little longer
12/17/2015
Lindsay H. - comfortable and attractive
12/07/2015
Jonathan W. - Outstanding product. Very comfortable shirt. However it shrinks quite a bit upon first wash -- more than I would have expected.
12/03/2015
Josh N. - Great shirt, fit nicely
11/20/2015
Ally P. - color and quality are great, runs a bit smaller than other shirts.
11/03/2015
Brooke P. - The color and softness are great. The fit runs a bit small but that was mentioned in the description - just know that it really is a snug fit and should be ordered a size up if you want it loose. Overall a great product!
10/27/2015
Rich L. - Shirts are a little on the small side
10/27/2015
Will C. - shrunk more than expected after drying
10/20/2015
Eliana Y. - I wish the material were darker, but still heather, and even softer.
10/13/2015
Amy D. - The shirt is so soft! The only downside is the fitted style is a little on the snug side, so recommend for anyone ordering that they go up a size.
10/05/2015
Brittany R. - love the heather and soft material!
08/28/2015
Jean C. - Quality is great!
07/21/2015
Brandon P. - Great shirt, but runs a little small, and doesn't wick sweat as well as some of the cotton polyester blends.
04/29/2015
Jared Z. - Soft, although fades after a while
04/28/2015
Samantha L. - The material is not as soft as I would have liked, but it was also one of the cheaper materials so that is understandable.
03/06/2015
Lauren V. - Had some feedback that the shirts were small for sizes.
01/26/2015
Patrice A. - It's very soft and fits true to size.
10/02/2014
Keith B. - Softer than most shirts you can get for this price. Wish it was a little softer though.
09/19/2014
Marissa N. - The fabric was great but the sizing seemed to run small
09/05/2014
Zach N. - Like: very soft and lightweight, vintage feel; Dislike: sizes run almost a full size small
08/19/2014
Michele Y. - It was not as soft as you would imagine given the name of the product.
08/07/2014
Jenny B. - soft, pre shrunk thank you
07/25/2014
Joy R. - The smalls fit a little funny
06/24/2014
Nita B. - Fitted nicely and soft
06/03/2014
Val H. - Cheap, basic shirt. Knew what we were buying.
08/06/2016
Tom H. - Everybody got a shirt said these are good quality shirts and comfortable
11/20/2015
Rich L. - I think the shirt material could be better quality because they run a little small and do shrink after washing. I do shirts myself and use he best quality I can for our 2 color process.
07/30/2015
Josh M. - Didn't like the sizing, shirts are too tight
02/06/2015
Arika M. - I really liked the ring spun. I didn't care as much for the old version-- not as soft.
11/01/2014
Patrick B. - Great shirt for the cost.
07/23/2014
Christy N. - Will choose higher quality product in the future.
06/06/2014
DeAndre B. - They don't completely fit true size
08/30/2014
Shannon F. - The medium and large sizes were much larger than the ratio too small should normally be. Very disappointed in the sizes.
08/18/2014
Rachel K. - SHRINKS!!! and is not comfortable- no soft and itchy