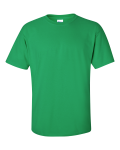 Irish Green
S - 5XL
Gildan Ultra Cotton T-Shirt - 2000G
This Gildan traditional fit basic t-shirt is made from 6.1 ounces of pre-shrunk cotton.
A sample of this product can be found at any Underground Printing location.

**COLOR NOTE: Heather and Safety Colors are a cotton-poly blend and feel different (softer) than 100% cotton Solid Colors.
Print Methods: Screenprinting, Digital Printing, Embroidery
Color Options

Antique Cherry Red

Antique Irish Green

Antique Royal

Ash

Azalea

Black

Blue Dusk

Cardinal Red

Carolina Blue

Charcoal

Cherry Red

Chestnut

Cornsilk

Daisy

Dark Chocolate

Dark Heather

Forest Green

Galapagos Blue

Gold

Heather Cardinal

Heather Indigo

Heather Navy

Heather Sapphire

Heliconia

Ice Grey

Indigo Blue

Iris

Irish Green

Jade Dome

Kelly Green

Kiwi

Light Blue

Light Pink

Lime

Maroon

Metro Blue

Military Green

Mint Green

Natural

Navy

Olive

Orange

Orchid

Pistachio

Prairie Dust

Purple

Red

Royal

Safety Green

Safety Orange

Safety Pink

Sand

Sapphire

Sky

Sport Grey

Stone Blue

Tan

Tangerine

Texas Orange

Vegas Gold

White

Show More Colors
Size Specifications
| Size | Length | Width | Sleeve |
| --- | --- | --- | --- |
| S | 28" | 18" | 16.5" |
| M | 29" | 20" | 18" |
| L | 30" | 22" | 19.5" |
| XL | 31" | 24" | 21" |
| 2XL | 32" | 26" | 22.5" |
| 3XL | 33" | 28" | 24" |
| 4XL | 34" | 30" | 25.25" |
| 5XL | 35" | 32" | 26.5" |
Our customers rate this product:
(430 Reviews)
Show Reviews:
5 Star
|
4 Star
|
3 Star
|
2 Star
|
1 Star
04/05/2017
Rachel D. - Very comfortable and soft.
03/09/2017
Stacey N. - the shirt is soft i.e. not stiff.
02/21/2017
Katie D. - Many color choices, sturdy, keeps color well after many washes
02/03/2017
Kristen C. - Love it!
11/28/2016
Marty C. - Great solid shirt, true to color and size
11/09/2016
Susan C. - These shirts are worn and washed repeatedly and both the shirt and the design hold up extremely well!
11/08/2016
Carol W. - I like the way the fabric feels.
10/12/2016
Laura B. - Colors don't fade, print lasts a long time through multiple washings
09/24/2016
Skyler W. - Very nice shirt
09/01/2016
Sanjana M. - Great material, printing and colours
08/31/2016
Jamie E. - Lightweight, but provides coverage. Washes well.
06/21/2016
Emily D. - Super soft. True to size. Light weight.
05/16/2016
Jimmie C. - Great fit and feel
04/19/2016
Katie D. - Cheap but nice material. These ran a little larger than usual though
03/14/2016
Issa C. - High quality shirt. Bright color.
02/24/2016
Sophie C. - Great material, nice fit!
02/03/2016
Suzie G. - Great feel and washes nicely!
12/27/2015
Johanna M. - Great Quality
12/10/2015
Bill S. - good quality with a modest price
11/24/2015
Christina A. - Nice quality shirt, soft and comfortable
11/16/2015
Anne Clark H. - Great weight, good color options and soft!
11/10/2015
Anne L. - Sizing is true; wears well.
11/10/2015
Kassi R. - Nice thick t-shirts! Good quality
11/03/2015
Colleen F. - Great basic, unisex t shirt.
11/01/2015
Amy C. - The t-shirts are soft and we had a vary of colors to choose from.
10/19/2015
Marty C. - Great quality for a team shirt with custom imprint; true to size
10/18/2015
Nick Y. - The material is great for what we needed it for!
10/18/2015
Ambrosia N. - Super soft
09/22/2015
Jessica G. - Great color, great fit; it's nice and soft and washes well.
09/16/2015
erica S. - looks good
09/01/2015
Ben D. - gret color and fit.
08/28/2015
Ashley L. - Comfy shirt, M fit loose which was a plus.
07/29/2015
Kimberlee S. - Nice quality. Doesn't shrink.
07/21/2015
Marian R. - The heathered blend shirt got rave reviews. It's a bit softer and cooler feeling and the indigo goes perfect with jeans. Wish it had come in children's size but the solid indigo was a good match.
07/18/2015
Rob W. - solid material that didn't shrink with washing and held up well to heavy use the week of our church camp
07/02/2015
Mike D. - Light weight, breathable cotton shirt. Good quality product that it durable and will last a long time.
06/19/2015
Chris B. - Comfortable, nice cut, and durable.
05/20/2015
Connie L. - The shirts are great quality and at an excellent price point
05/12/2015
Christen B. - Loved the shorter sleeves on the men's shirts that gave a more athletic feel.
02/06/2015
Rose H. - Loved how soft this shirt is!
12/18/2014
Johanna M. - Wears well
12/14/2014
Jimmie C. - Great look and feel
12/09/2014
Chris B. - Quality garment
12/02/2014
Matt M. - The shirts are very soft and fit well.
11/20/2014
Amanda L. - Durable and great color
11/14/2014
Ambrosia N. - Thick, quality shirts. Very comfortable
11/08/2014
Cassie W. - Great quality t-shirt!
11/07/2014
Steve S. - Great material.
10/13/2014
Dustin H. - it was exactly what i wanted
10/10/2014
Jason N. - the shirt was very nice
10/02/2014
Laura B. - Very comfortable. Everyone loves wearing them.
09/25/2014
Jay T. - The art was well done and the shirts are of good quality.
09/12/2014
Dawn R. - comfortable and roomy
09/12/2014
Judy N. - it didn't shrink
09/11/2014
Mindy B. - Love it! No shrinkage!
09/06/2014
Anthony E. - (Heather Grey) True to fit, very durable while still soft, difficult to stain, Made in Nicaragua
09/03/2014
Morgan M. - Soft, comfortable shirt!
08/28/2014
Wayne H. - Great weight to the shirt without being too heavy. The graphic was AWESOME.
08/18/2014
Cheri S. - Men don't generally comment, but I actually received several compliments on the shirts this year.
07/25/2014
Jennifer C. - VERY DURABLE MATERIAL AND COMFORTABLE, GREAT QUALITY
07/22/2014
Charles T. - The product was perfect in terms of the quality and the design
07/16/2014
Patty O. - great choice of colors
07/10/2014
concepcion E. - washes good, no srinks
06/28/2014
Melinda E. - Keeps it's shape and lasts with tough wear
06/26/2014
Priscilla B. - Customers loved this color. too bad we cant get it in Bayside
06/21/2014
Clare N. - Comfortable
06/20/2014
Sarah K. - It's a nice quality shirt - doesn't shrink and can take a beating at the restaurant.
06/10/2014
Andrea B. - The shimmer printing on the t-shirts looked great; good price for quality fabric
08/14/2017
Chris F. - not as soft as I thought it would be
02/08/2017
James R. - ran a little bit small, but ok.
01/27/2017
Mark S. - Good quality and value
12/07/2016
CJ R. - It's just a bit to heavy and square. Not a great fitting shirt.
09/06/2016
Ami B. - its pretty good for a guys tshirt.
01/07/2016
Shanna H. - Shirts fit perfectly, as expected
12/28/2015
Victoria C. - It was a basic shirt. Exactly what we asked for, although I personally prefer the softer blends (I'll get those next time)
12/17/2015
Mary K. - great basic shirt
11/21/2015
Fiana A. - The t shirt wasn't as soft as I thought it would be, but was sturdy material and relatively cheap!!
08/15/2015
Kristin R. - People tell me they shrink a bit more, but the weight and price are perfect.
07/14/2015
Weston W. - Good quality for the price
06/27/2015
Brad W. - The shirt felt a little itchy to me when first put on, but I wore it quite a bit with no issue.
05/18/2015
Debbie R. - Wish it was a little softer, but works for the purpose we need.
05/12/2015
Tory B. - Great basic tee shirt
03/19/2015
Nikki M. - Great print quality. Some of the shirts had loose threads but were easily fixed by snipping.
12/04/2014
Deb K. - Good color. Out of 300, only had 1 shirt with poor stitching on arm.
11/17/2014
Shannon H. - The only reason for a 4 star instead of 5 star is that unisex is really just one sex-men's. And doesn't work with or flatter the female body. And the "female" shirts are always thin and cheap.
11/08/2014
Amanda D. - Soft and did not shrink after wash & dry
11/03/2014
Paul C. - Appears to be good quality for the price and fits well.
09/03/2014
Tom Y. - price, colors
08/25/2014
Tory B. - Perfect light weight Tshirt!
07/30/2014
Joseph A. - Great that it came in 3XL and 4XL, served its purpose in that matter. Solid shirt, but not if you want a softer fabric or slender fit.
07/22/2014
Amanda R. - The color and design of the shirt are wonderful, I just wish it were a little softer.
07/08/2014
Shanee P. - high quality very thick cotton
10/06/2015
Michael R. - Its soft but I thought it would be a little more.
02/20/2015
Linda T. - For the price a good product
07/21/2014
Kesha L. - We were unable to remove the inside tags w/o damaging the shirt.
06/24/2014
Nita B. - Could be a little softer
11/11/2016
Deb C. - It's too heav and uncomfortable